Doug "Bullet Maker" Bilby
Details

Category: Obituaries
Published: Friday, 08 January 2021 20:32
Written by Super User
Hits: 1352
Although the MABRC had a parting of the ways with Bullet Maker and his teaming back up with Telahnay's G'son. Bullet was one of us for a long time, and as such, we remember him with this placement in the Eternal Hall of Fame.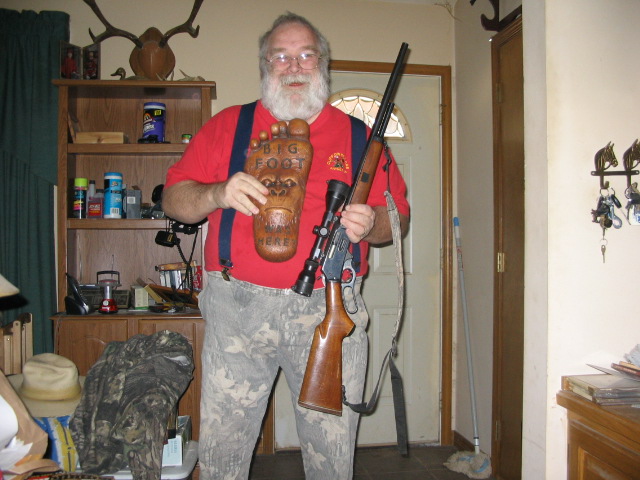 Doug passed away Mon., Nov. 11, 2013, at his home at the age of 67.

The son of Leon Douglas and Katherine Lou (Richardson) Bilby was born Nov. 29, 1945, in Tulsa. Doug, also known as "Chigger" and "Bulletmaker" was raised in Jenks and graduated with the class of 1964. His senior year he was named the Yearbook King. After school Harold entered the U.S. Army and served during the Vietnam War. Harold married Brenda Miller and they had a daughter, Brigitte. Doug worked for Frisco Railroad and retired in 1998 from Burlington Northern Santa Fe Railroad where he worked as a switchman. In 1990, Harold moved to the Cherokee Central area. On Oct. 3, 1995, he married Sharon Sue McGinness. He was a member of Winganon Baptist Church, and enjoyed reading and studying the Bible. Doug enjoyed hunting, fishing, reloading, shooting, taking wildlife photos, and hunting and talking about Big Foot. He also enjoyed building model airplanes and electric trains; and playing Santa for the Chelsea Bank of Commerce each year. He was a good, caring, giving, and kind man who never met a stranger. He will be missed by all who knew him.

Doug was preceded in death by his parents.

He is survived by his wife, Sharon of the home; daughter, Brigitte M. Bilby of Claremore; grandchildren: Eric and Stephanie Bilby both of Claremore; Step-children: Robert Barton Philion of Tulsa, and Tami Rene Stoilkovich of Malibu, CA; and siblings: Jerry Bilby and wife, Mary of Teralton, David Bilby and wife, Sheila of Tulsa, and Carol Davis of Tulsa.